So you are here to get a Canva premium account free!
Okay, in the next 5 minutes — I'll show you how to get Canva premium for free. All the process are steps by steps with pictures.
Let's get into details.
How to Get a Canva Premium for Free
Follow the given steps to get a free Canva premium subscription. Are you ready? If so, jump into the first step.
Step 1. Go to Canva Premium Landing Page.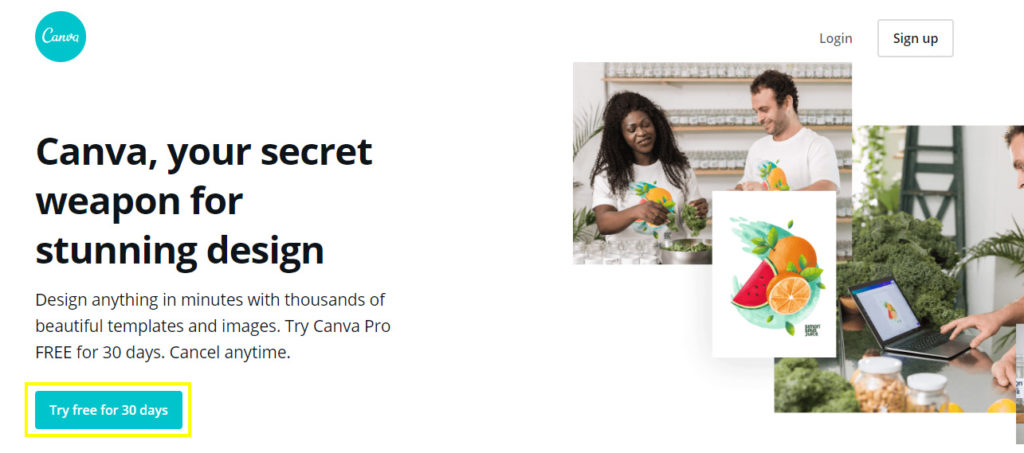 First of all, head over to the Canva premium landing page by clicking the button below.
After visiting the landing page you'll see a button called "Try free for 30 Days", at the bottom left corner. Click on it.
Step 2. Choose a signup method.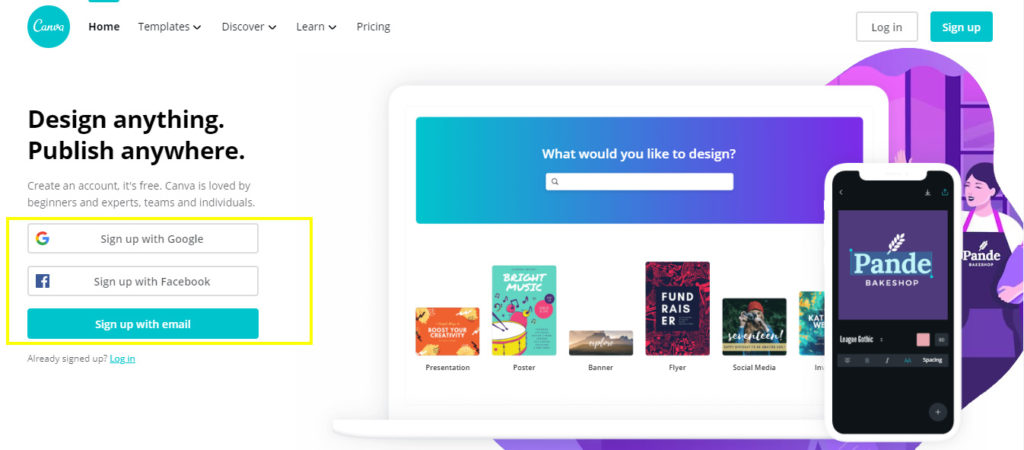 On that page, you have to choose a method to create your account. You can create an account through your email/ FB account/ Google account. The choice is yours. Click any of them you like.
Step 3. Now Fill up your account information.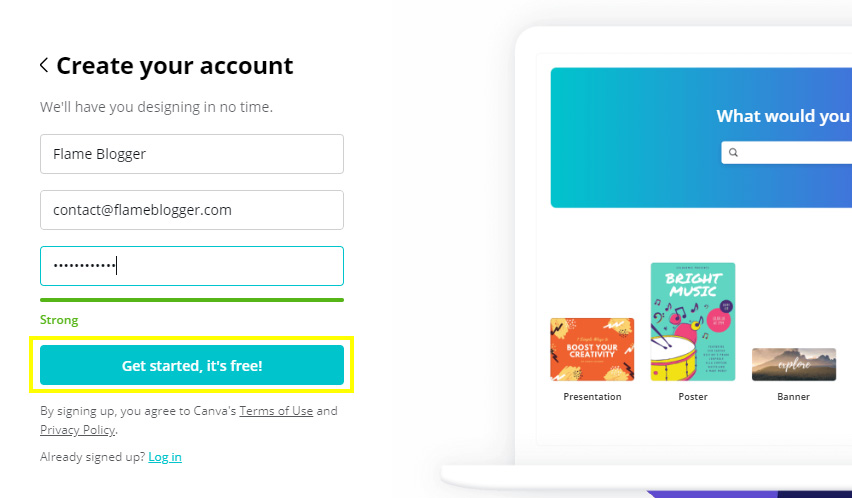 Fill up the blank field with your valid information. After that, click the button below.
Step 4. Input your payment information (No worries, it's FREE).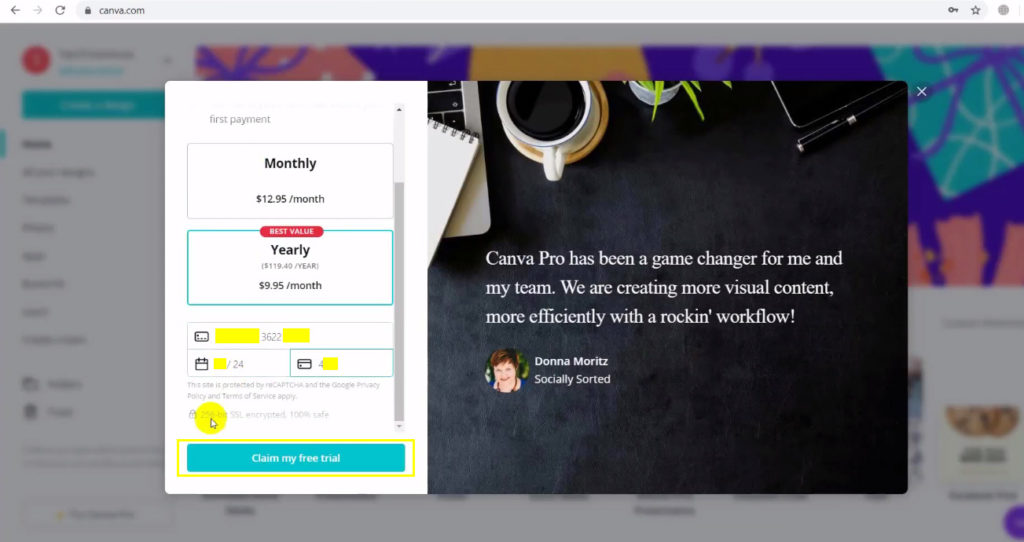 You're almost, done! In this step, you have to input your payment information.
Canva just requires your payment information, not charge money. After that, click the button below.
Boom! The premium account is created successfully. Enjoy the premium subscription 1 month FREE. There is no way to use the Canva premium subscription lifetime for free.
I recommend you purchase a PRO plan for $9.95 per month. Because while your trial subscription is gone, you are not able to download your designed file without watermarks. So, think about it.
---
What is Canva?
Canva is an online graphic design tool. It has tons of features that help you to design stunning graphic assets. Canva offers 3 types of plans on their service.
FREE Forever
Pro ($9.95/mo)
Enterprise ($30/mo)
They also offer a trial subscription for 30 days. You can cancel their trial subscription anytime you want. Let's take a look at their premium features.
Features of Canva Premium
Stunning Templates, Logo, Fonts, and Graphics
Design w/ Custom Dimensions
Export Your Design as JPG, PNG, PDF, GIF, and Video
Built-in Presentation Mode
One-click Design Resize
You Can Create Custom Templates
Download Your Designs w/ Transparent Background
Team Sharing Facilities
Brand Management Facilities
100GB to Unlimited Storage
Unlimited Folders
Dedicated Support
Two-factor authentication (2FA)
Single Sign-On (SSO) integrations
Why Canva Premium?
Canva premium offers you a bunch of premium graphic assets and pre-made templates. That's why you don't need to be a pro designer. Just drag and drop! Also, it takes less time to design.
The best thing is, you can export the design file as JPG, Transparent PNG, PDF, GIF, and Videos. Most of the Canva premium features are a great source to grow business.
I personally use the Canva premium to create graphic items for this blog and social media. It's quick and easy, also save my time. If you start a blog, then Canva helps you to create stunning content.
How Much Does Canva Premium Cost?
Canva Pro is $9.95 per month when paid annually or $12.95 paid monthly. And Canva Enterprise is $30 per month when you paid annually.
Is it worth paying for Canva?
Of course, it is! Because it helps you to create a stunning graphic design for your daily needs. Canva premium templates and graphic assets save your time and grow your brand.
Who is it for?
Canva premium is best for a freelancer, marketer, and entrepreneur. Also, you can use it for personal purposes. I recommend the premium version of Canva for everyone who wants to grow their business, brand or social audience.
FAQs on Canva
Is Canva free?
Canva is a Freemium graphic design tool. That means It has a free and a premium version.
What is Canva Premium?
Canva Premium is a Pro version of Canva. It contains tons of awesome features and pre-made templates.
Is Canva better than Photoshop?
Literally, no! But if you are not able to use Photoshop, then Canva is the best option for you.
Conclusion
I hope this article helps you to create a premium Canva account for free. If you have any questions on Canva, feel free to contact me or comment below. I like to hear from you.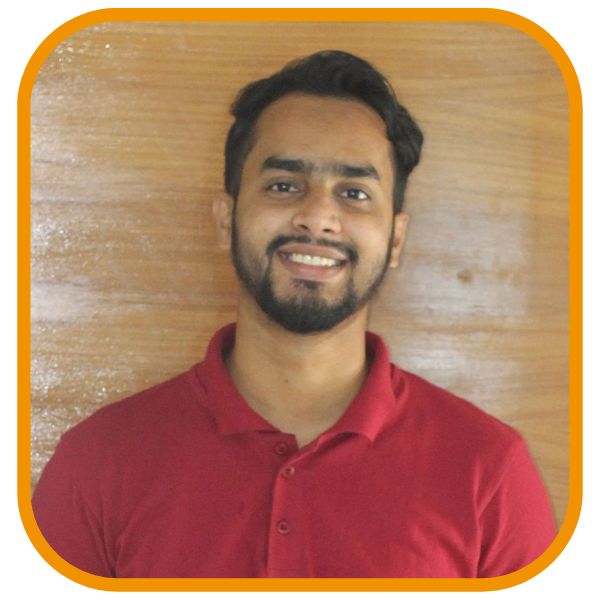 Shahin Alam not only practices what he preaches but also shares his wealth of knowledge with a global audience. His blog is a treasure trove of valuable insights, tips, and best practices related to SEO, digital marketing, and blogging.